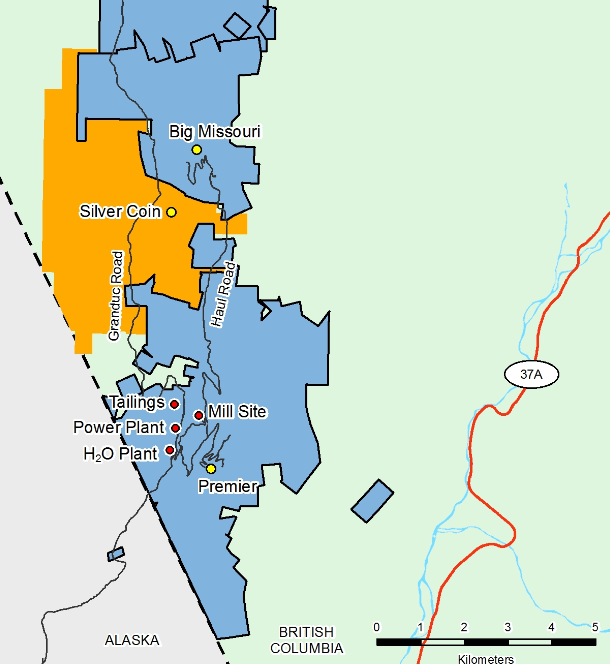 Property area of 1,470 hectares, increasing Ascot's land position to 8,039 hectares
Approximately 244,000 AuEq1 ounces of high-grade resources with significant exploration upside that adjoins the Ascot Property boundary and facilitates exploration on the unified ownership of the Big Missouri ridge
Located immediately adjacent to Ascot's Big Missouri project with access to the Big Missouri haul road
Similar ore type/mineralization as Ascot's current resources
Extensive pre-existing underground infrastructure with side hill portal
Property is located ~8 kilometres by road from the Premier mill
Silver Coin ore was previously processed at the Premier mill with known metallurgical characteristics for processing at Ascot's mill
Silver Coin is an advanced-stage, gold-silver property located 25 kilometres north of Stewart, B.C., 800 metres from Ascot's Big Missouri project and 8 kilometres away from the Premier mill. Mineralization is characterized as epithermal gold-silver deposit with base metal sulfide-bearing breccias and veins similar to those mined at the Premier Mine. The total mineral resource estimate for the high-grade core consists of 702,000 tonnes grading 4.46 g/t Au in the indicated category and 967,000 tonnes grading 4.39 g/t Au in the inferred category as set forth in the report entitled "NI 43-101 Technical Report on the Silver Coin Project, August 2013" prepared for Jayden by Mining Plus Canada with an effective date of August 23, 2013. The resource estimate was stated at a cut-off grade of 2 g/t Au. In 1991, Westmin Resources mined the Facecut-35 zone and extracted 102,539 tonnes of material grading 8.9g/t Au and 55.5g/t Ag for an equivalent grade of 9.28g/t AuEq. The gold recovery for this material was 92.9% and the silver recovery was 45.7%1. Certain claims, which are not part of the existing resource are subject to a 2% net smelter return royalty.
The project has room for expansion of the mineralized zones and significant exploration potential for additional zones. Ascot is currently working on a resource update for the Silver Coin property.
1 2013 Mining Plus Jayden Resources Inc. NI 43-101 Report, pg. 28