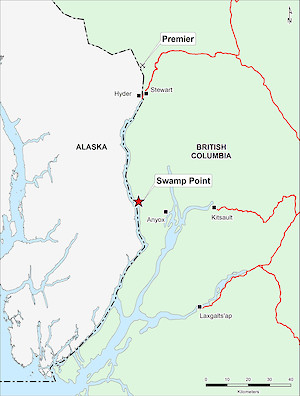 The Swamp Point aggregate deposit is located on the east side of the Portland Canal, which is a large fjord that separates British Columbia from the Southern Alaska panhandle on the northern coast of British Columbia. The port city of Prince Rupert is approximately 130 kilometres south of Swamp Point and is the closest major supply centre with an airport that has regular scheduled flights to and from Vancouver.
The site includes a Foreshore License for a deep-water port that can accommodate Panamax vessels and can be accessed by boat, float plane and helicopter either from Prince Rupert or Stewart (~50 km). Deep water shipping on the Portland Canal gives access to the Pacific Ocean, about 128 km from the port.
Ascot owns 100% of the License of Occupation, which covers the sand and gravel deposit where the project is based, and the Foreshore License, which covers part of the foreshore area beside the deposit, and two mineral claims which in part underlie the gravel deposit. The property is subject to two royalties; one to the BC Provincial Government and one to the former management of Ascot. There was limited production (~145,000 tonnes) in 2007, however, the project was put on care and maintenance shortly after as a result of the economic downturn. The mine is permitted for 3.3 million tonnes of aggregate production per annum through to 2021.